A Classic Maritime Party
by Angus MacCaull
Twelve of us gathered around Theresa and Todd's table in February to celebrate the Greenwich Office win for the best tree in the first annual AA Munro Christmas Tree Contest.
Molly, Franklin and Tagan (two miniature schnauzers and a pug) kept careful watch for any dropped food as Harley and Wayne served salmon and spare ribs with three kinds of potatoes. Cries of "Garçon! Garçon!" peppered the meal, as we called out for more wine. The two "garçons" obliged, and we drank and ate our fill, finishing with apple crisp—a fitting dessert choice for the Valley.
"We knew if we didn't win that Harley would make a new category!" said Angie. The Greenwich TeAAM felt that Angie's idea to make ornaments for everyone in the AA Munro family was sure to make an impression.
After dinner, Theresa brought out a guitar. She strummed a few warm up chords and started into "Stand By Me". Then she played a whole set's worth of songs, including "Last Kiss" and "Long Haired Country Boy" (one of her father's favourites). Angie took a turn, too. She played an Eagles' tune we all knew.
Take it easy, take it easy …
As the evening wound down, the plotting for next year's contest continued. Everyone present was naturally sworn to secrecy!
Thanks again to all offices for making it exciting with great submissions. And a special thanks to Georgie for creating the whole contest, as well as to Michelle Baker (Intact), Jerry Janes (Portage Mutual) and Stacey Purcell (Aviva) for judging.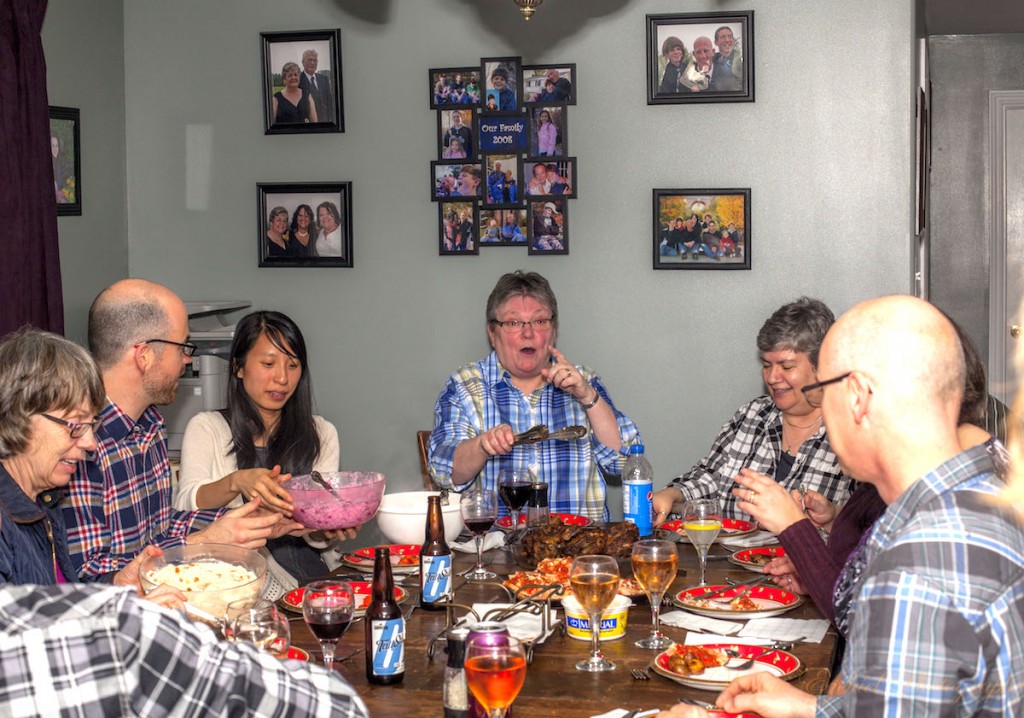 ~ The Menu ~

Appetizers
Spinach Dip
Garlic Cream Cheese Dip with a Brown Sugar and Pecan Crust
First Course
Greek Salad
Entree
Baked Stuffed Salmon
Slow Cooked Ribs
Classic Potato Salad
Potato and Beet Salad
Roasted Red Potatoes
Maple Glazed Carrots
Dessert
Apple Crisp
Vanilla Ice Cream
Red Wine, White Wine, Coffee and Tea