Cavendish 2020
by Angus MacCaull
"But will it even be fun?" said Annie. "There are so many restrictions on the boat."
We'd booked a mid-August ferry from Nova Scotia to Prince Edward Island: our first trip since the pandemic began (and since our newest family member arrived). Before COVID-19 we'd been on the road regularly around the Maritimes and across Canada. Now we were feeling cautious. Two old millennials, a preschooler, and a newborn in a world without a vaccine for the virus.
A paramedic stopped us to check our declarations once we landed on the Island.
"No," I said to each of his questions, trying to sound healthy. No coughs. No fevers. No, we hadn't been outside Atlantic Canada in the last fourteen days. Satisfied, he waved us on. Annie and I gave each other a look. Had we made it? Then she crossed her fingers that the boys would keep it together in the back seat as I turned what we call our Jeep-a-deep onto the highway.
The small wins started adding up. Spencer raved about every tractor we passed. Simon only needed to nurse once. We even found a local radio station with good songs and banter. We were definitely feeling the vacation vibes by the time we hit Cavendish.
We spent the next few days relaxing. Not everything was open, but everyone was friendly. We walked the National Park, sat on the beach, and ate Cow's ice-cream at the Boardwalk. In the evenings we found patios, watched the sunset, and made s'mores on the campfire (pro tip: use Celebration cookies instead of graham crackers and chocolate).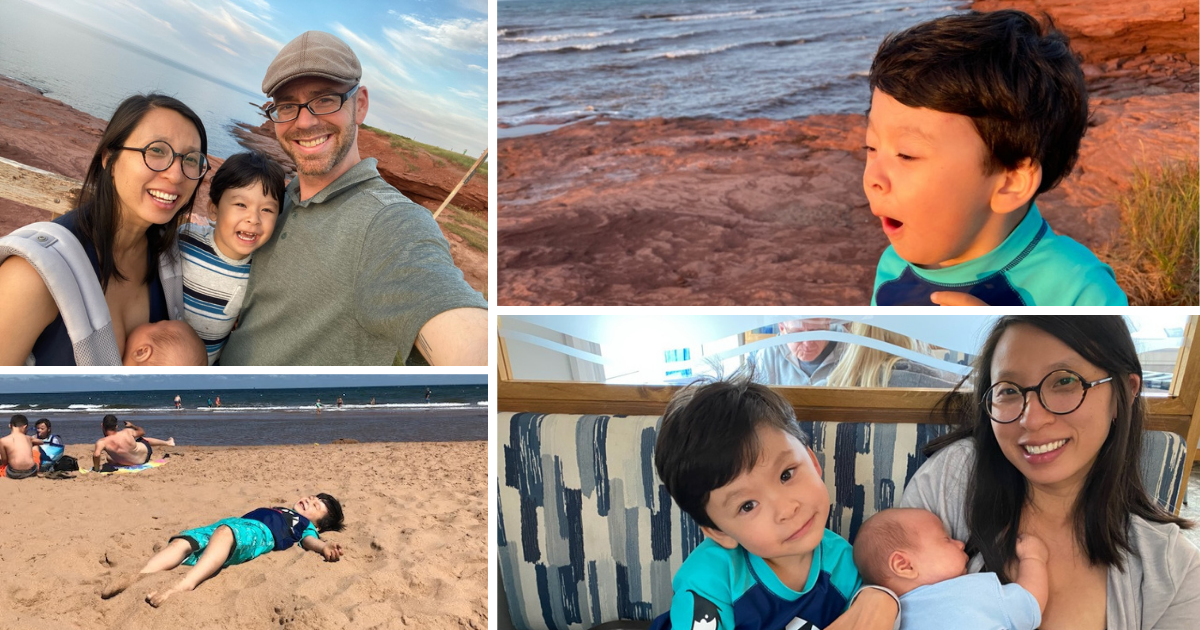 I don't really know how we'll remember this summer in the future. Memory seems to have its own will. Did the kids melt down a bunch? Yes. Was it awkward to keep sanitizing everything? Yes. Did my mask fog up my glasses? For sure. But I feel it's important to try to make special moments whatever the circumstances.
I remember my own childhood vacations in PEI. How big the waves were against my body. How many faded red crab shells I found in the sand. How much I laughed with my brothers. The value of these memories grows as I age.
Our life in 2020 may be strange. It may be a period that we wish would end quickly. But each day is still a day—and we're not getting any of this time back.
Here's to using it as wisely as we can.