Coldest Night of the Year
by Rebecca Davis
It's cold out there. What can we do to warm the hearts of our communities?
The Coldest Night of the Year is a family-friendly walk to raise funds for local charities that help people experiencing things like homelessness, hurt and hunger. On February 20th, Donna Frison-Leblanc participated in Yarmouth's CNOY chapter. The walk looked a little different this year. Teams normally come together, but instead they had to do it virtually.
"It started snowing while I walked," Donna said. "But that made it all the more fitting."
Donna and the other Yarmouth walkers supported the Tri-County Women's Centre and SHYFT House. The Women's Centre offers counselling, resources and advocacy for women. SHYFT House provides transitional housing and outreach support for at-risk youth.
"During the past year, we have seen a tremendous impact on the youth as a result of COVID-19," said Wanda Doucette, event coordinator for CNOY at SHYFT House. "We have had to limit the number of youth who can access SHYFT as a drop-in centre, and find innovative ways to engage youth on an outreach basis."
Every $10 donation allows SHYFT to serve about 3 meals. $50 allows them to provide 8 in-house programs. And a $100 donation gives them the ability to offer 6 supportive counselling sessions.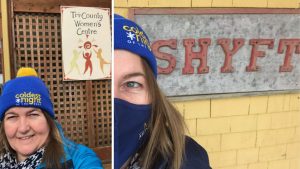 Donna was ready to make the most of the winter weather and in turn help Nova Scotians in need. She recruited her friend Jennifer, and together they walked 5 kilometres close to home. In the end, Yarmouth's CNOY event raised 101% of the $22,000 goal. Donna's walk in particular raised $355.
"Thanks to my family, friends and colleagues for helping us surpass our goal," she said. "Looking forward to 2022!"