Dartmouth Crossing Omelette
by Angus MacCaull
It takes a trip or two to get the lay of the land at Dartmouth Crossing. It's massive. There are several distinct zones, including an entertainment area, box stores, and the quaint brick walkways of the Village Shops, which is where you can find our AA Munro office.
After you've been in and out once or twice, you realize that Dartmouth Crossing is easily accessed off of the highway and there's lots of parking. It's a good alternative to Bayers Lake. Some of the retail spaces haven't found a fit with long term tenants yet, but the whole development is less than ten years old so there's still time for that. Meanwhile, there's a small cafe on its way to becoming a neighbourhood gem.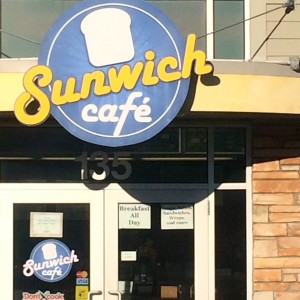 The Sunwich Cafe is an eatery right in the middle of all the action. I've been a couple of times. It's got character. Salah the owner is outgoing. The atmosphere is comfortable. And though there are some mixed reviews online from a few years back, it seems like they're steadily improving. There's wifi now and the service is pretty good. But really I want to tell you about their omelette.
I came off the road hungry one day around 1pm. I hadn't had lunch so I trundled into the Sunwich. The burger on the menu looked nice, but something was pulling me towards a second breakfast. Ummmm—the second breakfast! Salah must have picked up on my gut feeling because he pointed to a sign for an omelette. "Our signature," he said. "It's our best seller."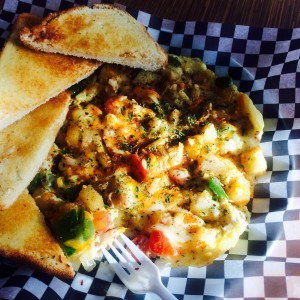 The coffee was hot and my food showed up in a few minutes. The omelette had a sprinkling of Middle Eastern spices on top and hash browns cooked right inside with onions, green peppers, tomatoes, cheese and olives. It was delicious. I'd recommend it to anyone, any time of day. It put a smile on my face for about $10. As I left the cafe recharged for the afternoon, I smiled again when a voice from one of the staff called after me, "I'm happy to feed your belly!"