Going Green
by Rebecca Davis
I recently made it a goal of mine to reduce my own ecological footprint. "Going green" involves eco-friendly decisions that help protect the Earth, sustain natural resources and bring hope for future generations. Here are some of the different ways I'm checking my values and making greener choices.
Paperless Habits
After Earth Day last year, I made a point to go paperless with my bills and communications. I now receive emails and online invoices instead of tossing out physical mail. Our commercial CSR Marla also broke the habit. Despite some initial hesitation on both our parts, it benefitted the environment and our efficiency.
COVID-19 also brought consumers more virtual options. Our broker teams mastered greener ways of conducting business, like eSignatures and online sales, and our clients started using these options too.
Less Food Waste
My household filled the extra time at home these last few months with home-cooking. With new recipes, though, comes grocery shopping; and with COVID comes errands that are fewer and farther between. Planning our meals and finding creative ways to use leftovers has reduced our food waste.
No Work Commute
Working from home has also drastically decreased daily driving for myself, my coworkers and the community. Greenhouse gas emissions make up about 20% of our total pollution, and shortening the commute to a room-change has definitely limited the impact we have.
Exploring the Outdoors
With gathering limits and capacity restrictions in place, I started exploring closer to home, both for physical activity and peace of mind. I found myself embracing the outdoors and paying more attention to the beauty around me.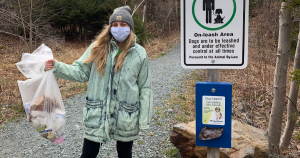 The more I got outside, the more litter I saw scattered on our trails, beaches and parks. On Earth Day 2021, I went for a walk and filled a garbage bag within 30 minutes! Going forward, I'm taking it upon myself to do what I can, and challenging my friends, family and coworkers to do so too.
I've found replacing our habits with more eco-friendly choices makes going green become less of a second thought and more of a commitment. If we take it upon ourselves to treat every day like Earth Day, we can make quite the difference.