Planting the Community Seed
by Rebecca Davis
"To plant a garden is to believe in tomorrow." —Audrey Hepburn
What better way to invest in the future than doing so alongside your community?
Our Digby broker team recently got involved in a project with the Digby & Area Community Gardens. They're a non-profit organization started in 2014 that provides space for residents to rent garden beds and grow their own fruits and vegetables.
Jeremy Melanson and James Tidd reached out to a local client who mills lumber and ordered 60 boards. Jeremy then spent the week cutting them down into 4×8 lengths, which made for a donation of about 30 beds for the garden society.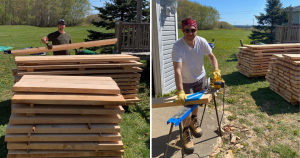 "This was the perfect thing for AA Munro to get involved in as we usually opt for donating time or material goods," Jeremy said. "I wrote a letter of support outlining our intentions, and they were thrilled."
The project was a perfect fit for Jeremy personally as well—he started a vegetable garden at home last year, and has lots of experience in carpentry.
A community garden gives us the opportunity to grow together, too! The result was a contribution to a great cause that makes a big difference in the community.
The Gardens have big plans for expansion, and the team can't wait to help. "The fact that AA Munro is so down with supporting our community gives me all the reinforcement I need. I have the backing I need to go out and make a difference in my hometown," Jeremy noted.
A little work goes a long way when we work together. If we take the time to plant the seeds, we can all reap the benefits.