Healthcare Heroes: From the Frontlines
Interviewed by Rebecca Davis
Like many of us, Darlene MacDougall has definitely felt some COVID stress over the last year. Her daughter, Chelsea, is an LPN, so she's been privy to the hardest parts of the pandemic.
Chelsea's world of busy hallways full of smiles and laughter with coworkers and residents has been replaced with hushed whispers of worry. Bringing someone a coffee, sitting in the same car, or simply taking your mask down for a minute are prohibited.
As part of our Healthcare Heroes campaign—which aims to share stories of frontline heroes who have taken the brunt of COVID-19 stress and strain, and support them in the impossibly hard work they do—I had the chance to talk to Darlene about her experience, and her hero Chelsea.
INTERVIEWER
What inspired Chelsea to work in healthcare?
MACDOUGALL
She's always been a very caring and empathetic person. When she was younger, she wanted to be a marine biologist—I think mostly just so she could swim with great white sharks and I would have no say! Four years ago, we lost my father; her grandfather and father figure in every way that matters. Watching the care, compassion and dignity the palliative care unit provided confirmed her career choice in nursing, and she got accepted to Marconi in 2018.
INTERVIEWER
How has COVID-19 impacted Chelsea? You? Your family?
MACDOUGALL
After her first year in the LPN program, she was able to work at Harbourstone in Sydney while still maintaining her education. She essentially started her nursing career at the onset of the pandemic, after switching to online learning and going full-time in the designated COVID care unit. I think it has made her an even better nurse than she would have been otherwise, because while she always knew it, she saw the importance of helping someone who was scared and needed reassurance.
INTERVIEWER
What kinds of stressors have you seen over the last year for healthcare workers?
MACDOUGALL
Before the pandemic, you would see stress for nurses because they are so overworked and understaffed. Now, it seems to be tenfold due to the added pressure of contracting COVID or bringing it home to their loved ones. The healthcare workers I know, both friends and other family, are tired in a way they say they've never been before.
INTERVIEWER
How has having a loved one on the frontlines during COVID made you feel?
MACDOUGALL
Truth be told, I was terrified. When she was working in the COVID unit, we couldn't be around each other like we typically would. I went for her groceries and errands to keep her exposure level at a minimum, and so I could see her, even if just from the driveway. That gave us both the type of connection we were missing.
INTERVIEWER
What are the hardest parts of this new normal for healthcare workers?
MACDOUGALL
Chelsea told me she's felt overwhelmed, anxious, and often helpless. Working alongside residents who are suffering with various stages of dementia can be challenging on a typical day, let alone during a pandemic when they ask why their families and friends have stopped visiting or they can't go outside. Some understand, some are unbothered, and others will ask again in a few moments. There have been moments of heartbreak when telling families their loved one are now palliative, navigating how they're able to make their final visit. As a nurse, Chelsea hopes that people continue to take the virus seriously until it is eradicated. She would love to be able to see my residents' faces light up again when their families come to visit from away, or simply going outside for a drive.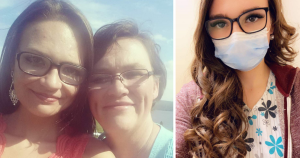 We're honoured to be getting to know healthcare heroes like Chelsea around the province. Read more stories or nominate a loved one at Healthcare Heroes: Continuing Care Edition.
Help us bring the happy back to the hallways of our frontline workers. Send some virtual words of support to a hero like Chelsea or your neighbours, colleagues and friends who are supporting healthcare heroes in Nova Scotia.