Leadership Where You Live
by Angus MacCaull
What does it mean to be a community based brokerage? We say that we are. We talk about all the communities across Nova Scotia where we have offices. But are we really community based? Are we a part of the fabric of Nova Scotian life? What would go away without us? A few top notch insurance products, sure. And definitely some great jobs. But what else?
I think a good example of what else can be seen in something like the NHL Legends Charity Hockey Classic in Liverpool. With the 2nd annual game held this past September, it's on its way to becoming an institution. The event is the brainchild of Joel Zwicker. The past two years it's raised money for two different local organizations and given people in the town of Liverpool an exciting and vibrant evening out with their families. Almost thirty other local business have come on board, all in the name of community. This year, BMO even sent out a team of volunteers to help staff the arena.
Joel has had the time and the resources to organize the game and spearhead the event because Harley and Wayne believe that happy people and strong communities are the foundation for a great company.
Joel is passionate about hockey. He's also a member of the Queens County Skatepark Association, which raised a significant amount of money this year as a result of the game. A few other members of the Association are pictured on the cover of this article, including David Gunn (in the red tee shirt). I asked Dave what kind of impact an event like the NHL Legends game has on an organization like his and on a town like Liverpool. "In an era when rural communities are struggling," he said, "events like this one bring everyone together and inspire others to donate their time and money to better our community." I couldn't have said it better myself.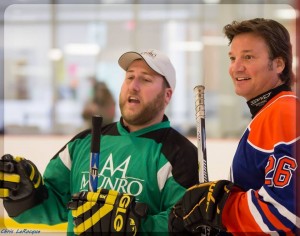 So one thing that might go away without us is leadership. With access to a strong support network and the independence to spend your time on what you feel will make a difference where you live, you really have the opportunity to be a community leader. Joel certainly is. I'm proud to be his co-worker.