Learning Goes a Long Way
by Rebecca Davis
When COVID struck, organizations pivoted their communication channels to adhere to the "new normal." Now more than ever, they're looking at the way they support not only clients, but coworkers, too.
Our Staff Development Manager, Tracey LaTulippe, is a strong believer in the value good training can provide. In an ever-changing industry like insurance, a strong foundation without losing sight of career growth and development makes a difference in the service we provide, and how we relate to our jobs.
"COVID certainly hasn't slowed us down when it comes to training," Tracey said. "We've hired a number of awesome people over the past 2 years, which meant our staff onboarding program had to be adapted."
Tracey's passionate about the need for adaptable ongoing training. Earlier this year, she put together a playlist of weekly training opportunities for our coworkers, hand-picked based on current trends: leadership, customer service, communication or goal-setting. They're available in our digital learning management system, the Learning Library.
In the "before times," as we so lovingly call the pre-COVID days, Tracey did find it difficult to maintain engagement from staff once they were settled into their jobs. She figured this would only be exacerbated by the monotony of lockdown. The opposite happened. "I'm excited to say that there has been a significant increase in site traffic and course completion from our brokers and leaders," she said.
And it doesn't stop there—our insurer partners are reporting increased usage of their training portals, and we have a number of brokers putting significant work into their insurance designations. Three have received their CIP designations since January! Congrats to Karen, Erin and Neal.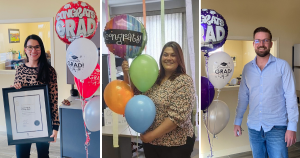 The world of training is changing—and it's on the rise at AA Munro. "It seems we are taking our core values to heart as well-trained, highly-motivated insurance specialists. I'm so excited to see more folks taking advantage of the variety of training materials at our fingertips," Tracey said. "The ownership and growth in our people is translating into the growth we are seeing in our business."