Tilda's Bulletin Board
by Angus MacCaull
"Everyone always looks at that board when they come in," Tilda told me. Then she laughed a bit to herself. "I'm good at starting something, but I'm not the one to do it all!"
I visited Tilda upstairs at the New Glasgow office primarily to talk about one specific thing. I'd heard that she'd facilitated a donation from the Intact Foundation last spring for a group called Roots for Youth. It was $10,000. But soon after arriving, I realised that Tilda has been involved in lots of things. She showed me her collection of photos and newspaper clippings. She's done things like attending board meetings for the Legion and the Cadets. She's taught Sunday School. She currently heads up our smoke detector program. And she participates in dozens of events like our tailgate party for the Pictou County Lobster Carnival.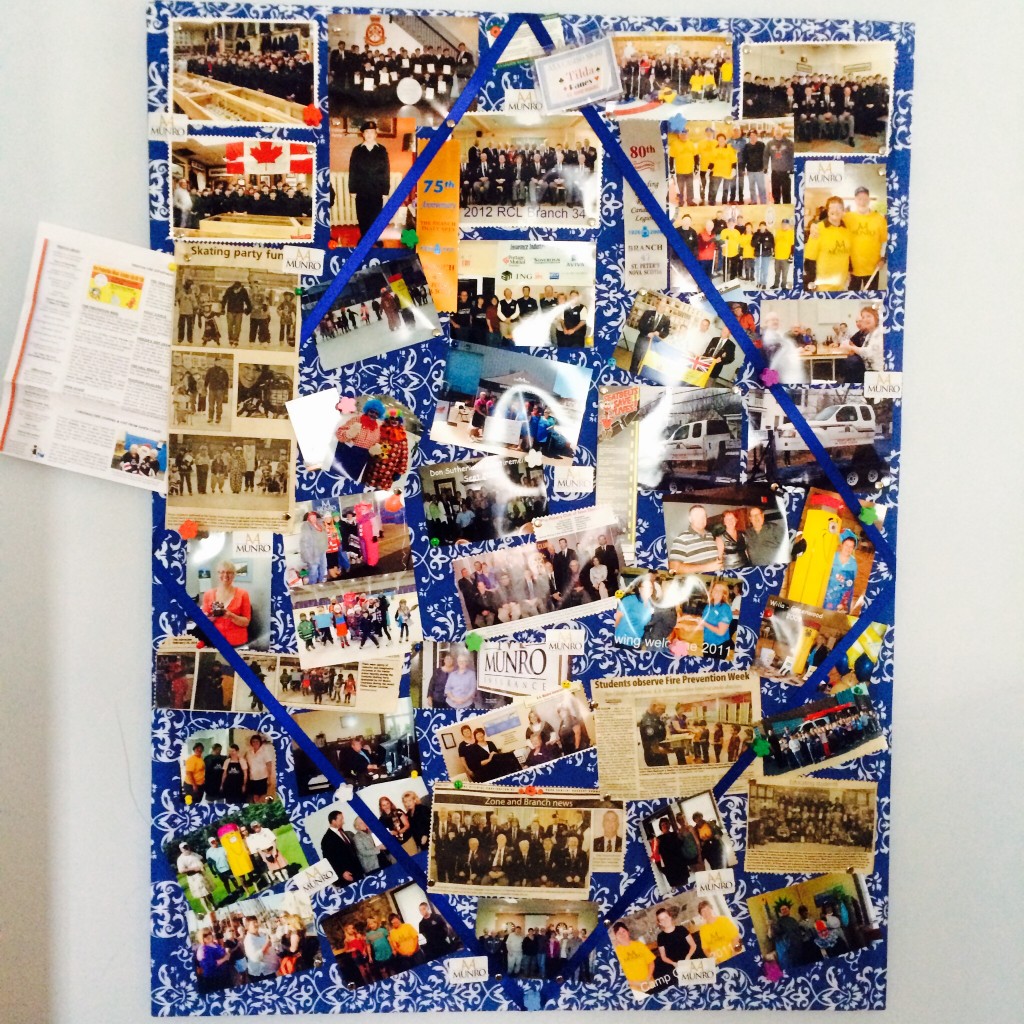 Tilda has a enlightened attitude toward balancing personal and professional time and identity. She freely admits that she doesn't always feel like making community meetings in the evenings, but nonetheless she has a policy of attending everything that she can. In addition to the meaningful professional connections that her presence creates, she also gets a lot of personal satisfaction from genuinely helping people. And there are the occasional odd perks as well, like when she was invited by the Cadets on a trip to Paris. Tilda told me that you have to pick things that you're honestly interested in, so that you can put a true face forward. "Ask yourself what you care about, show up, and participate," she said. "You don't realise how much your community involvement affects people. People don't realise how much other people may notice it."
Here's an example from Tilda's life. Tilda used to sit on the Legion board with a man named John Desmond, who was the president of the local chapter at the time. Tilda was head of publicity and would show up to events and take photos. The photos would appear in the Legion's magazine crediting Tilda as the photographer and noting that she was from AA Munro Insurance. John clearly took note. In addition to his involvement with the Legion, John was (and still is) the head of fire safety for the local volunteer fire department. So when the fire chief in New Glasgow, Dougie Dort, approached John about starting a smoke detector program in Nova Scotia, John was very comfortable going directly to Tilda with the proposal to get AA Munro on board as a sponsor, which Dougie encouraged John to do because Dougie had also heard about the AA Munro Firehall Competition.
"It all comes together right," Tilda told me, "when they can put a person in a place and they just start having these connections. They brought it forward and John came in and just talked about it and I said this is fantastic give me a couple of days and I'll get back to you. And that's how our smoke detector program started." We had the privilege of handing out 1300 smoke detectors this year to second grade students throughout Nova Scotia because people trust Tilda's integrity. And because she's enough of a presence in the community for people to feel good about approaching her.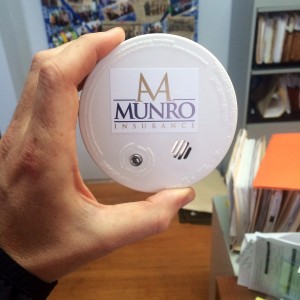 Everybody needs support. Organisations need support and individuals do to. Tilda's such a great example of this. While she makes a big effort to help out, she's also always asking others for help with a project or for a ride to an event. For her it's all a part of her values and her understanding of community. To say that you're community based, it's not enough to just have an office in a small town. You have to be a part of local organisations. "You gotta put yourself out there," says Tilda with another laugh of recognition and a smile. "You never know what's going to happen until you go!"