Using Your Talent to Help
by Rebecca Davis
Our annual Fire Hall Photo Contest celebrated its 10th year in 2020. Photographer Sean O'Connell has worked with local fire halls in the past, and took the photos for our winning and runner-up departments. He also featured his daughter in North Sydney's second-place photo.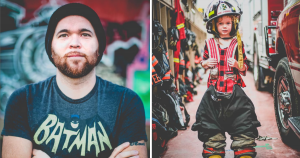 Sean got interested in taking photos of first responders when he worked with the Code 1 Coverage team. They cover the Truro police scene. Shortly after he started travelling with North Sydney Fire & Rescue to document their calls.
This past year, he made the decision to become a volunteer himself for North Sydney. "It's an honour to work alongside first responders," he said. "I got a first-hand glimpse at the amazing work they do, and now I get to do it too."
Sean's volunteer efforts and natural talent have not only benefitted the volunteer firefighters, but the community as a whole. He also volunteers with the local Cape Breton music scene, promoting a weekly online streaming service and providing a platform for talented up-and-comers.
First responders need help when it comes to funding and supplies, and the pandemic exacerbated that need. Using his talents for the community helped make a difference during COVID. Sean's volunteerism was redeeming for himself as well as the crews he works with.
"It's a great way to spread awareness and give back to the firefighting community. It's safe to say I feel like part of the family."