Celebrating HRM's Heroes with FX101.9
By Rebecca Davis
Almost everything was cancelled this summer in light of COVID-19. We missed getting out to all the fundraisers, parades and other community events we usually support.
Fortunately, our media partners at FX101.9 refocused their summer cruiser in order to get out and celebrate local people making a difference during the pandemic. And I got to ride along!
Before embarking on the Cruiser journey in July, I got to know Jamie and Emma from the FX101.9 team. We built a connection and worked together to get seven of our coworkers' voices on the radio. You might have heard Brandi in Dartmouth talk about being new to an industry she loves, or Elisha in Sackville mention her experience in commercial insurance.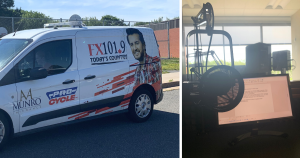 The Community Cruiser was an awesome way to get out in the community while showing support to those around us. Folks nominated their friends, family and coworkers for recognition in the form of a radio shout-out, certificate of appreciation and a dozen donuts from Jagger's Cafe (they never lasted long).
MJ and Frankie Hollywood were also in attendance, and it was pretty cool to be able to put a face to the radio voices I've heard so often. We surprised Mercedes, a mother of four who volunteers for the youth of Spryfield and celebrated with the boys' basketball team she supports. Frontline workers like the team at HomeBridge Youth Society and Parkstone Enhanced Care were also recognized for their tireless work and it was touching to take part in.
Celebrating local HRM heroes with the Cruiser gave us a chance to show the sense of gratitude we feel as part of a strong Nova Scotian community during such a crucial time. It was both a way to recognize hard work and create new relationships. Even with masks on, you could tell people were smiling.