Insurance for New Canadians
by Scott Hickey & Rebecca Davis
In 2021, there were 9,020 new Canadians granted permanent resident status in Nova Scotia – the highest number in the past five years. Imagine arriving to live in a foreign country, and all of things you have to think about as you get acclimated into your new city. Now think about tackling insurance!
There might be language and cultural barriers. Perhaps you're starting a new job and you need to find a place to live. You'll learn the best ways to navigate your new city, and maybe buy a car to get around. These parts of your new lifestyle require coverage, and the process of securing insurance in Nova Scotia can differ from other places.
Painting the right picture for new Canadians is important. Over the last few years, insurers have taken steps to better support the needs of people immigrating to Canada. One such brokerage is Armour Insurance of Mississauga, whose team services clients in 17 different languages. Armour Insurance president Rupinder Hayer recently quoted in Insurance Business Mag: "This enhances a comfort level for clients and the organization ensures clients are directed to brokers who understand the language and insurance culture they are immigrating from."
Premiums in Canada are typically higher than immigrants anticipate. In countries with larger populations such as India or China, insurance is typically priced lower than in Canada. Additionally, new Canadians face the challenge of having no insurance history resulting in higher premiums or rejection of coverage. New Canadians or Nova Scotians looking for insurance quickly, and not fully realizing how different the insurance industry is in Canada, might go with the first policy they can get their hands on. The danger in this scenario is a lacklustre policy that might not cover the nuances of your lifestyle. The pitfalls, if a claim occurs, can be detrimental.
If we think about the number of immigrants who will buy homes, cars and other items that require insurance, the potential for brokers is significant. What's also significant is the challenge of communicating with new residents who speak little to no English – and also how best to explain – what for many is a complicated industry that is different from what they experience in their home country.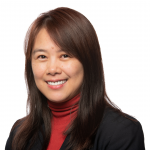 Closer to home and within our AA Munro community, we recently hired Tham Le. Tham moved to Cape Breton three years ago from Vietnam to complete her degree and after graduation she decided to stay in the province with her family. As a new immigrant, Tham Le knows all too well the challenges associated with putting down stakes in a new country, including buying insurance. 
Lucky for us and our clients, Tham's worked in personal and commercial lines of insurance for 19 years. She offers invaluable insight and experience to Vietnamese-speaking immigrants new to Nova Scotia.