Why Do We Wear Kilts?
by members of the AA Munro team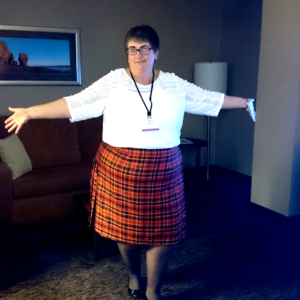 We wear kilts to remember where we as a company came from and to pay our respects to our founder. When you are trying to get someplace, it is always important to remember where you came from and not to lose sight of what is truly important. I'm very proud to put my kilt on. I like the fact that we all wear them to the Brokers Convention, that we show up as a team in them and we stand out from the crowd. Because we do stand out from other brokerages. We are completely different in our approach and that is something else that I am proud to be a part of. When I put it on I almost hear the battle cries of my Scottish ancestors!
Georgie Fleck, Team Manager for Central Nova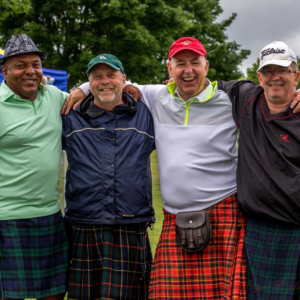 I wear the kilt because I am proud of the organization's cultural background. Before I joined A.A. Munro, I had the pleasure to meet Alcorn. I experienced the pride he had in his community and his drive to keep it alive. His Scottish beliefs were very close to those that I grew up with in Newfoundland. I also wear the kilt because I believe it is important to embrace the culture of the community that you choose to live in. It is not completely about assimilation but more a chance to grow. I learn from others' beliefs and I get to share my own culture and traditions. I have worn my kilt proudly in many different locations throughout the world: New Zealand, California, Toronto, Italy, and Las Vegas to name a few.
Wayne Ezekiel, President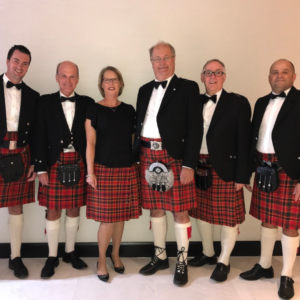 Deep down I feel some people enjoy the history of knowing where they come from and keeping the traditions alive. Whenever I wear the Munro or my own kilt, I always have people approach me advising they have one at home and if only they knew someone else would be wearing one they would have put it on. Or they talk about how they would love to get one. Or how their grandfather always wore one. The thing in common is that they are always smiling when they talk. Along with it being a salute to our culture I find it's a great way to break the ice as far as starting conversations and getting to know people. It's also very formal and easily replaces a tuxedo. At the same time, it can be very informal. There are no rules and they look good.
James Kerr, Team Manager for Cape Breton